Embrace the Power of Data
Cardiovascular diseases rank among the deadliest conditions in the Netherlands, posing a significant societal challenge. It's not only the first heart attack that's a concern, but rather the period afterward, during which efforts must be made to prevent a recurring event. Especially during this time, it's crucial to ensure patients are well-monitored and that healthcare is well-organized. Data from the Cardiovascular Risk Management (CVRM) benchmark can play a pivotal role in achieving this.
Secondary prevention aims to enhance outcomes by addressing cardiovascular risk factors such as smoking, blood pressure, and cholesterol. These factors are directly tied to a higher likelihood of subsequent, often more severe, events following an initial cardiovascular disease episode. Patients receive this care across various medical specialties in hospitals and from general practitioners. As a result, the care they receive can sometimes be fragmented and not of consistent quality between different care providers.
To enhance secondary prevention of cardiovascular risks for these patients, Amgen and five hospitals, supported by Vintura, have developed the CVRM benchmark. Through the data gathered from this benchmark, hospitals learn from each other to improve care for persons with cardiovascular diseases.
A whitepaper*, presented by Amgen and our partners, aims to shed light on the importance of data to further enhance cardiovascular care. Over the past five years, substantial groundwork has been done and to further advance this care in the future, it's crucial to make this initiative sustainable and implement it nationally. Let's collaborate with all stakeholders in cardiovascular care to drive this forward and ensure better healthcare, fewer subsequent events, and fewer patients with cardiovascular diseases in the future!
Read the whitepaper* here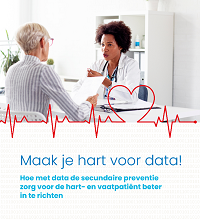 For more information about the CVRM benchmark, you can contact Amgen B.V. here
*Only available in Dutch