A customized solution for every patient
We engage daily with patients, healthcare providers and other parties to contribute to improved outcomes for every patient. To this end, we offer customized solutions, backed by Real World Data analysis: our home care programs. These programs provide support to the individual patient at home, helping to monitor and improve adherence where possible.
The AmgenCare home care programs
Via AmgenCare, we offer specialist care at home, tailored to the specific needs of patients within specific indications, in collaboration with our home care vendors. This includes extensive explanation and help with medication administration at home, offering doctors insight into the treatment of their patients, online support for the patient, monitoring adherence and the result of the treatment, and measuring patient satisfaction in our AmgenCare programs.
AmgenCare encompasses a number of specific care programs developed for patients specifically related to their disease profile. By now, these AmgenCare programs have existed for over 20 years, and during that time over 50.000 patients have been supported with these programs. These care programs include amongst other things home delivery of medication, administration and specialist care, extensive information and instruction on the use of the medication so that the patient can take over (depending on the type of medication), taking blood values, offering online support via a patient platform, and monitoring therapy compliance and treatment outcome.
See below for a brief description per program.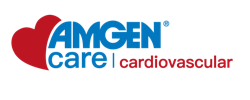 The AmgenCare cardiovascular program offers digital and physical services, through which the program contributes to achieve optimal therapy compliance and cholesterol (LDL-c) target values in (high-risk) cardiovascular patients. These services include at-home delivery, medicine administration and medication instruction by a nurse, periodic feedback on LDL-c values to physician and patient, 24/7 customer service and a digital patient portal.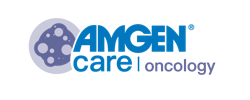 The AmgenCare oncology program includes at-home delivery and medicine administration, instruction on the medication by a nurse, additional information provision depending on the treatment to be followed, and 24/7 customer service. The program is aimed at reducing the burden of treatment and the disease process as much as possible through personal guidance and its services.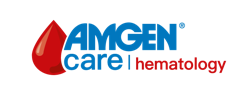 The AmgenCare hematology program focuses on at-home infusion therapies for patients with Multiple Myeloma. The at home administration of the treatment reduces travel and waiting time, subsequently decreasing the burden of disease for patients and/or caregivers. As such, the program contributes to the quality of life and the maintenance of therapy compliance.

The AmgenCare bone program aims to empower people with an increased fracture risk to self-inject their medical treatment. To this end, an injection instruction is given at home by a specialized nurse, supportive material is made available for the patient, and medication is delivered at home.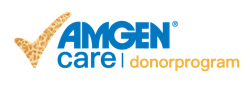 Through the AmgenCare donor program, Amgen specifically contributes to an increase in the number of (unrelated) stem cell donations. The program facilitates for as many unrelated donors as possible to help patients with stem cell transplantations. The program includes injection, instruction and guidance of donors at home (or on location), every day of the week. This reduces the burden on the donor and provides more flexibility in the planning of donations and stem cell procurement, which results in an increase in stem cell transplants.